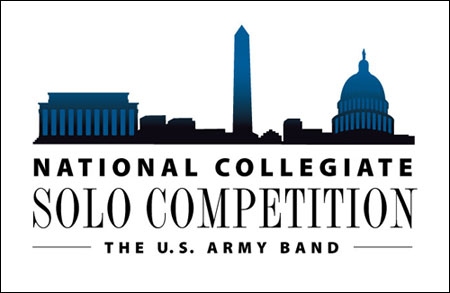 National Collegiate Solo Competition
Congratulations to the winner of the 2023 U.S. Army Band National Collegiate Solo Competition, Mateo Seghezzo Alvarez!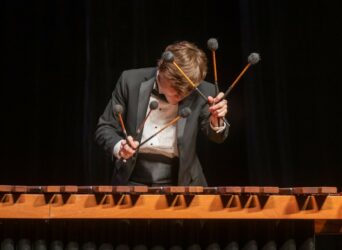 Mateo Seghezzo was born in 2000 in the mountainous northwestern province of Salta, Argentina. He first came in contact with percussion at the age of 4, while living in Wageningen, the Netherlands, where he took African djembe lessons with a teacher from Mozambique. Once back in Argentina, he started jazz drum set lessons when he was 7, studying with Oscar "Chinato" Torres and Sebastián Hoyos.
He is currently in the last year of his bachelor's degree in percussion performance at Sam Houston State University (Huntsville, Texas), under the tutelage of Dr. John Lane. There he grew a fascination for the marimba, an instrument that built a bridge between his life-long passions for drums and baroque music.
Among other competitions and awards, Mateo obtained the 1st-place Gold Medal in the Young Texas Artists Music Competition, and 1st-place in the SHSU Concerto Competition. He was also both the first international student and music major to ever receive the Texas State University System (TSUS) Regents' Student Scholar Award.
Mateo will be pursuing a master's degree in early keyboard performance (harpsichord & organ) at SHSU, under the direction of Dr. Mario Aschauer. His goal is to understand baroque music from a historically informed perspective, to then translate this knowledge insightfully to the marimba.

2022 National Collegiate Solo Competition Winner
2021 National Collegiate Solo Competition Winner
2020 National Collegiate Solo Competition Winner
2019 National Collegiate Solo Competition Winner
Past Winners
| Year | Winner | School |
| --- | --- | --- |
| 2022 | Matthew Meadows, horn | University of Alabama |
| 2021 | Landon Chang, saxophone | University of North Texas |
| 2020 | Salvador Flores, saxophone | Northwestern University |
| 2019 | Charles "Chappy" Gibb, flute | University of North Texas |
| 2018 | Trevor Borroero, marimba | |
| 2017 | Dorien Tate, bass trombone | |
| 2016 | Sandra Bailey, bassoon | |
| 2015 | Brittany Lasch, trombone | |
| 2014 | Christopher Leslie, euphonium | |
| 2013 | Benjamin Andrews, marimba | |
| 2012 | Francesco Camuglia, flute | |
| 2011 | Rachel Perry, saxophone | |